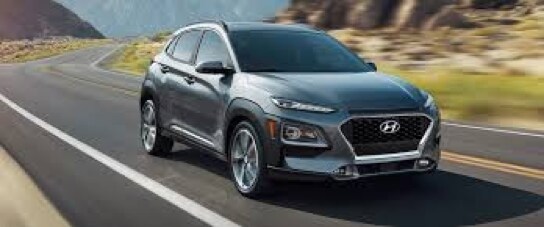 Nissan Rogue is the oldest among these three compact crossovers, but Hyundai Kona and Honda HR-V are certainly making a name for themselves, despite their youth. These two models are priced much lower than Nissan Rogue, but there are some different features and included options to consider as well. Different configurations will have different price tags, but overall, it seems like HR-V and Kona may be leading the way. Keep reading to find out how these three measure up, and which one actually wins the class.
Hyundai Kona
Hyundai Kona offers a huge range of trims for the latest model years, giving you plenty of options for engine capacity, transmissions, and even drivetrain. You'll find great fuel economy in every model, and the performance and handling features will give you a comfortable ride no matter which trim you pick. Front-wheel drive and all-wheel drive are available on every configuration, making it easy for drivers to get what they want. Plus, the base MSRP tops out just below $30,000, making it one of the most affordable options even when you choose the Limited or Ultimate trims.
Honda HR-V
With fewer trim options than Hyundai Kona, HR-V still delivers a wide range of configurations and trims. Pricing is on par with Hyundai, but their best base model is a little bit cheaper than Kona. Honda is known for its continuously variable transmission (CVT) and economic engine technology. Plus, every HR-V includes standard HondaSensing safety features, with a selection of premium features available for those who want to upgrade. The safety and reliability of the Honda name measures up to Hyundai, but HR-V may be a little basic in comparison, at the end of the day.
Nissan Rogue Sport
It's hard to even start a comparison of Rogue Sport, considering that the MSRP is quite a bit higher than Hyundai Kona and HR-V. However, it does have its reasons and its perks. First of all, Nissan is known for its performance, and Rogue Sport offers a powerful 2.5-liter engine in the base model, with premium performance engine options available in select trims. It keeps up with the other two in terms of fuel economy and offers an extra gallon or so of fuel capacity. Still, though, the extras might be somewhat minimal compared to the increased base price.
See Why Hyundai Kona Wins Its Class
While Honda HR-V and Rogue Sport both have their place in the SUV market, they lack some basic benefits that come with the Hyundai Kona lineup. Kona features sleek exterior styling and plenty of interior and cargo space, along with plenty of upgradable features and options. However, even the base model is well-outfitted to ensure that you get the most bang for your buck. Since pricing and MPG aren't too different from HR-V, it may be a toss-up for some. However, one test drive of Hyundai Kona will change your mind. Stop by and drive a Hyundai Kona for yourself.