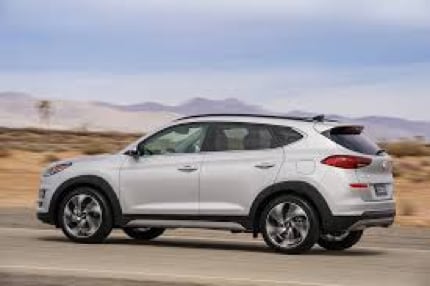 When it comes to an affordable, reliable midsize SUV, Tucson, RAV4, and Escape seem to stack up fairly well against each other, offering their own selling points and benefits to consider. All offer reliability and safety, with the backing of some of the best brands in the industry. The midsize market is popular right now, and these three seem to be leading the pack. Which one, however, is actually the best? Find out more below.
Hyundai Tucson
The Hyundai Tucson offers a variety of trim options with different standard and optional features, including everything from a six-speed automatic transmission to front-wheel and all-wheel drive options for almost every level of trim. The 2.0-liter engine comes standard on most models, but you can also upgrade to something with a little more punch or choose to save on fuel by choosing the model with the more efficient engine.
Tucson is spacious, and Hyundai is notorious for making some of the most unassuming, spacious vehicles on the market today. There is plenty of cargo space, and the infotainment and safety features are plentiful, as well. Every Hyundai comes with Hyundai Assurance, as well, adding more peace of mind and helping you know that you're making a good investment.
Toyota RAV4
Toyota RAV4 offers a higher base engine option and a much better fuel economy in the available Hybrid model. The Hybrid can get up to about 40 MPG, depending on whether you're driving in town or on the highway. Plus, there are optional upgrades with each level of trim to ensure that you get the ideal engine for your off-road adventures. Even if you just like RAV4 for cruising around town, you can do it in style when you check out all of the available upgrades and trims available.
RAV4 is slightly lacking in things like infotainment and other technology compared to Hyundai Tuscon, but only because Tucson is brand new and from a different generation. Toyota does well to offer a reasonable SUV for the price, but it's just not going to be able to stand up to the likes of Tucson for very long.
Ford Escape
Ford Escape offers a variety of standard safety features and the Ford SYNC system to keep everything connected. Plus, this model comes from a leader in the automotive industry and has been a class leader for many years of its lifetime. There are plenty of options available on the Escape, from all-wheel drive to upgraded V6 engines and even the EcoBoost edition that offers a near-hybrid experience with a much lower price point.
Ford Escape has been redesigned over the years, and now features much more curvy styling. Although the passenger room is ample enough, Escape does lack a little space in the cargo area when compared to Tucson and RAV4.
See Why Hyundai Tucson Wins Its Class
No one can tell you which car you should buy. RAV4, Escape and Tucson are all competent, enjoyable midsize SUVs. However, you can use the information here to make a more informed decision about Hyundai Tucson and how it stacks up against the competition - including plentiful options, space, infotainment and safety features. Test drive one now and see how fast you fall in love.