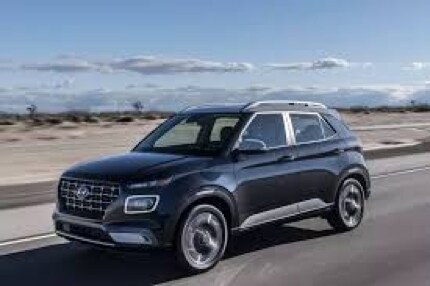 Hyundai has released an all-new subcompact SUV to reach out to this new market that has a whole different audience. Hyundai Venue is designed for those who are working with a used car budget but want a new car investment. The affordable pricing and sleek design disguise the fact, for many, that this is essentially a really tall hatchback, but Nissan Kicks has a similar design. Both models have their pros and cons, but it looks like the all-new Venue might be taking the lead. Read on to find out how these two compare and which one should be on your test drive list.
Hyundai Venue
Hyundai Venue is all about budget-friendly style. Plus, it comes from Hyundai, which means that standard safety features abound, and every vehicle includes the Hyundai Assurance (warranty) for the ultimate peace of mind. This subcompact SUV offers a 1.6-liter engine that runs on four cylinders and a continuously variable transmission. You can also opt for the six-speed manual transmission, and the dual-port injection ensures that you get fuel economy and performance power all at once.
You'll find plenty of modern convenience in Hyundai Venue, from a premium infotainment system to Bluetooth and USB connectivity options, as well as standard safety systems that include blind-spot monitoring, rear cross-traffic alert, and automatic emergency braking. The forward collision avoidance system offers pedestrian recognition, and Hyundai also includes driver attention warnings and lane keep assist for extra protection. The interior is roomy and comfortable, with optional upgrades to premium materials if you want a little more luxury in your budget subcompact.
Nissan Kicks
Nissan Kicks is capable, and it performs fine, but it is seriously lacking in options, upgrades, and included standard features. Where most other models in the class offer multiple engine configurations and other variables to pick and choose from, Kicks only has a few different options available. It does have standard safety features and the reliability of the Nissan name, along with a comfortable interior and plenty of infotainment and technology on the inside.
Nissan Kicks is going to have a much more basic look when compared to Hyundai Venue, but some people enjoy the more basic, rugged look of Nissan vehicles. The pricing is reasonable for the class on this model, but the fact that it just looks fairly "vanilla" next to Hyundai Venue and other models is what keeps it from leading the market.
Hyundai Venue Offers Value & Style
Nissan Kicks could be a fun car for someone who doesn't care about a lot of options or included standard features. Those on a budget who prefer the Nissan name may opt for this model, but ultimately Hyundai is the best way to go. This brand has done it again with Venue, creating an affordable vehicle that looks anything but cheap. It gives you the best of both worlds when you want a subcompact SUV that looks stylish without breaking the bank.